Dining experience is one of the most important parts in getting to know the place and its culture while travelling around. The art of culinary travel in Phuket is getting more and more popular among the tourists as the place is very well-known as a melting pot of unique cultural cuisines such as Thai, Chinese and Locals. Here at Baba Soul Food and Baba Beach Restaurant Phuket, we serve only authentic local & Thai dishes with original tastes.
Let us guide you through Phuket with our top list of 5 local Phuket & Thai dishes to eat like a local!
1. Moo Hong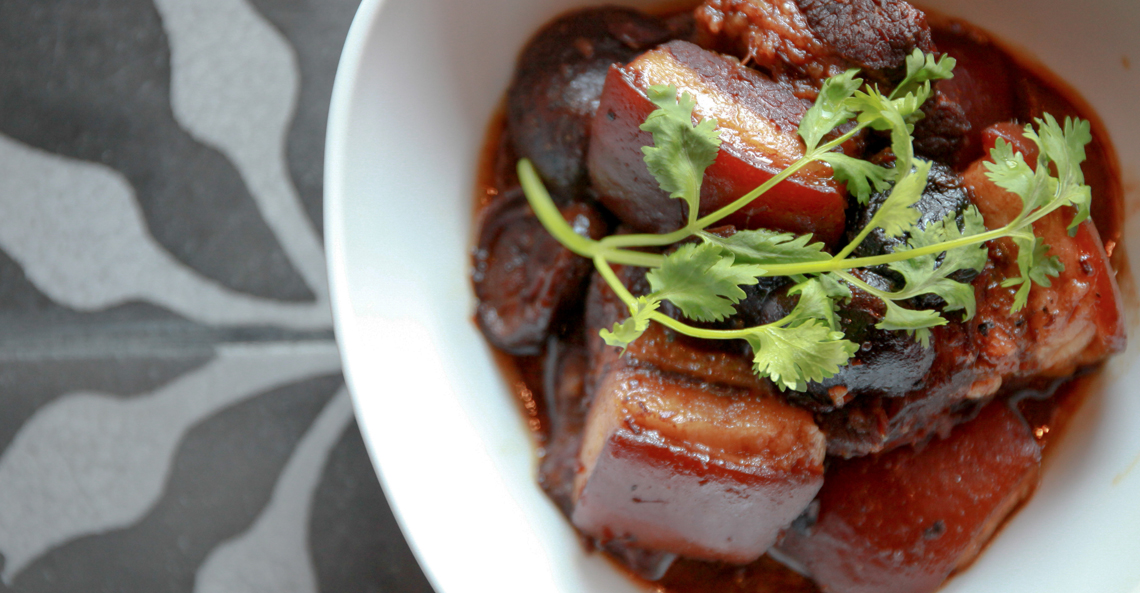 Moo Hong is Phuket braised pork belly stew in sweet & salty dark soy sauce with peppery flavor. This savory dish is the traditional old-school Phuket food influenced by Thai and Chinese culture. Both locals and tourists enjoy Moo Hong because of its juicy & tender pork belly with the combination of sweet but slightly salty caramelized flavors. Don't miss the dish as you cannot find it elsewhere in Thailand except Phuket.
2. Crab Curry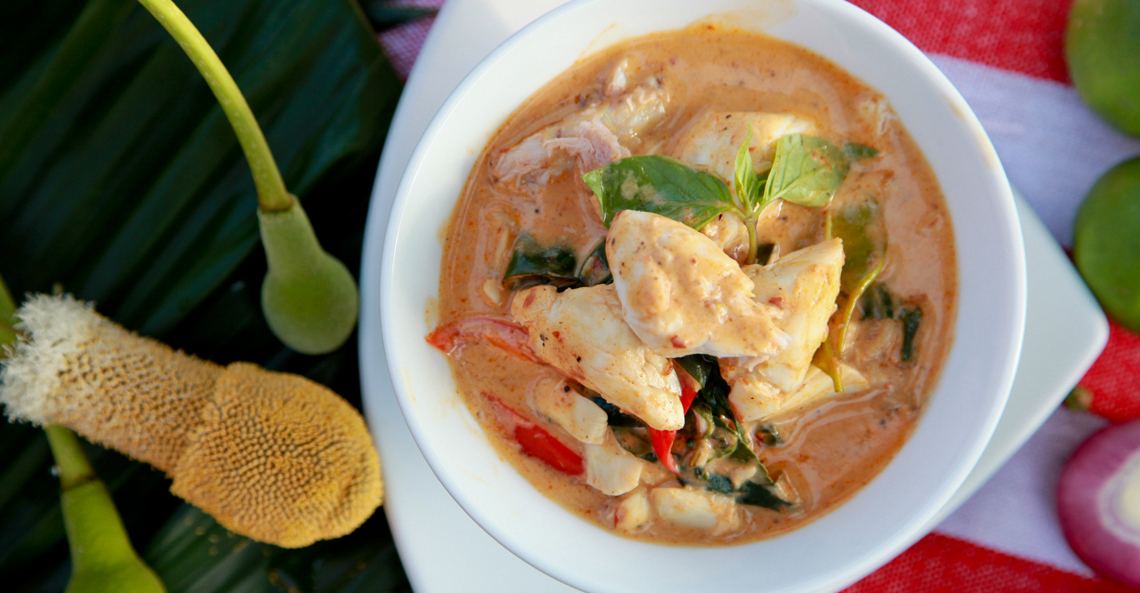 Crab Curry is one of the best specialty dishes of local Phuket food. The dish is made from fresh Andaman crab meat cooked perfectly in Thai yellow curry with mild spicy flavor and served together with fresh rice vermicelli or cooked rice.
3. Goong Pad Kapi Sa-tor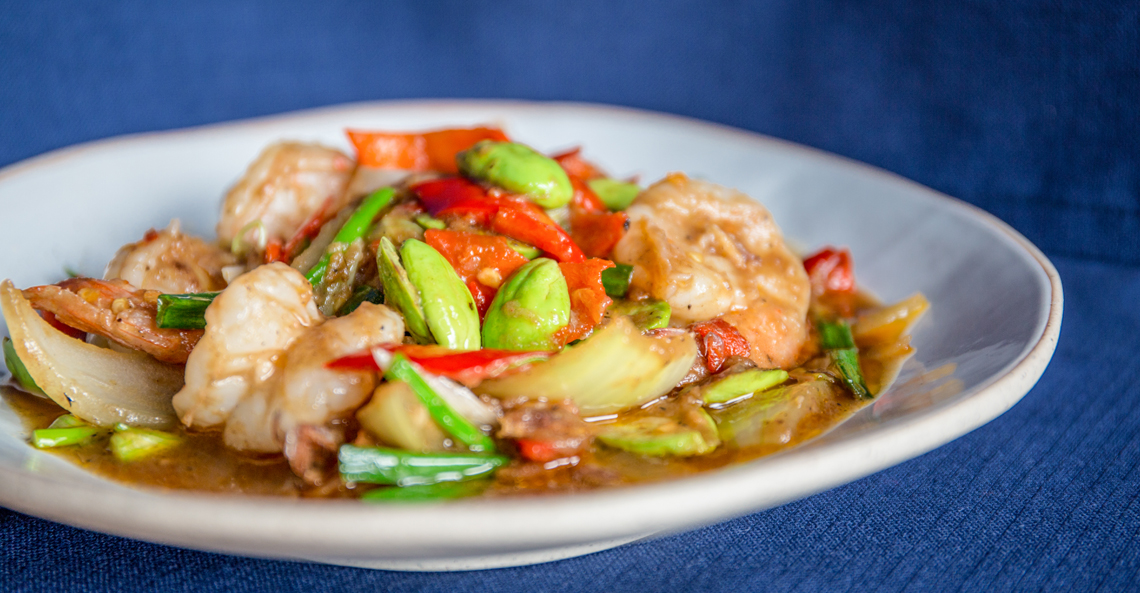 Goong Pad Kapi Sa-tor or the stir-fried fresh shrimps with spicy shrimp paste & parkia seeds  is the traditional Southern and local Phuket dish. This dish has a very unique strong flavor and aroma because of the parkia seeds. Let's try it by yourself!
4. Phad Pak Miang Khai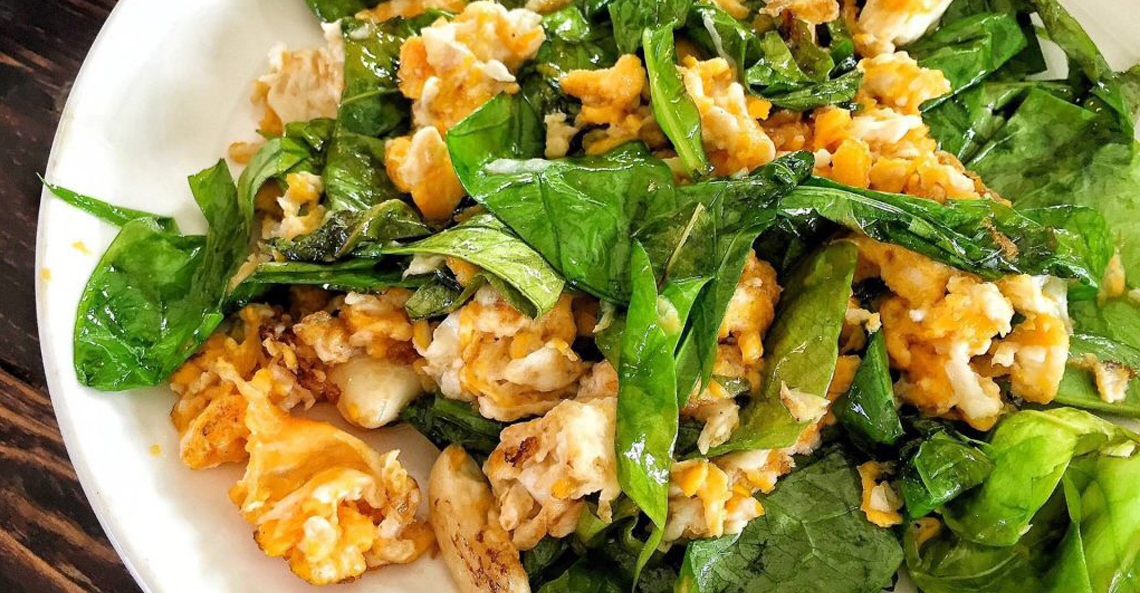 credit picture : Bestthairecipes.com
Phad Pak Miang Khai or Stir fried Miang leaves with eggs is the dish that everyone enjoys. The dish is the traditional Phuket and Southern menu since the Miang leaves can only be found in Phuket and Southern part of Thailand. Don't miss to try this local dish while you are in Phuket.
5. Tom Yum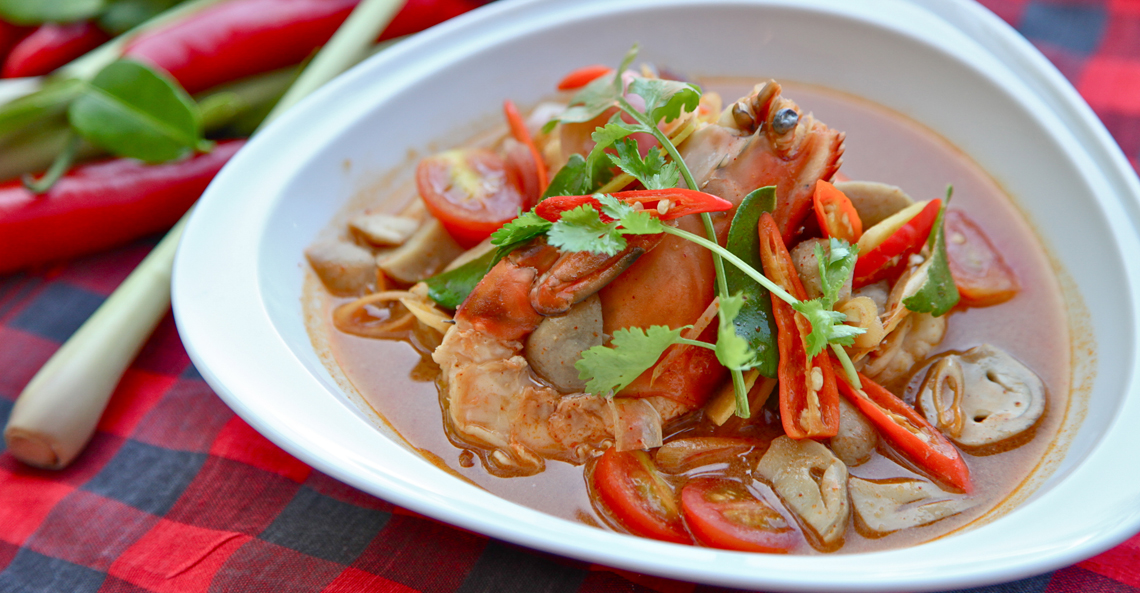 Tom Yum is the traditional Thai spicy hot and sour soup. The main ingredients of the dish are lemongrass and other Thai herbs, usually cooked with prawns. Tom Yum is one of the signature dishes which represent authentic Thai cuisine and the most favorite dish for many Thai and foreigners. Upon your stay at Sri panwa & Baba Beach Club, you can order Tom Yum for lunch & dinner to experience the true Thai cuisine.