Calling all lovers! 💋​ #วาเลนไทน์ริมทะเลหัวหินชะอำ ชวนคนพิเศษมาสัมผัสประสบการณ์สุดเอ็กซ์คลูซีฟริมทะเลที่บาบา บีช คลับ หัวหิน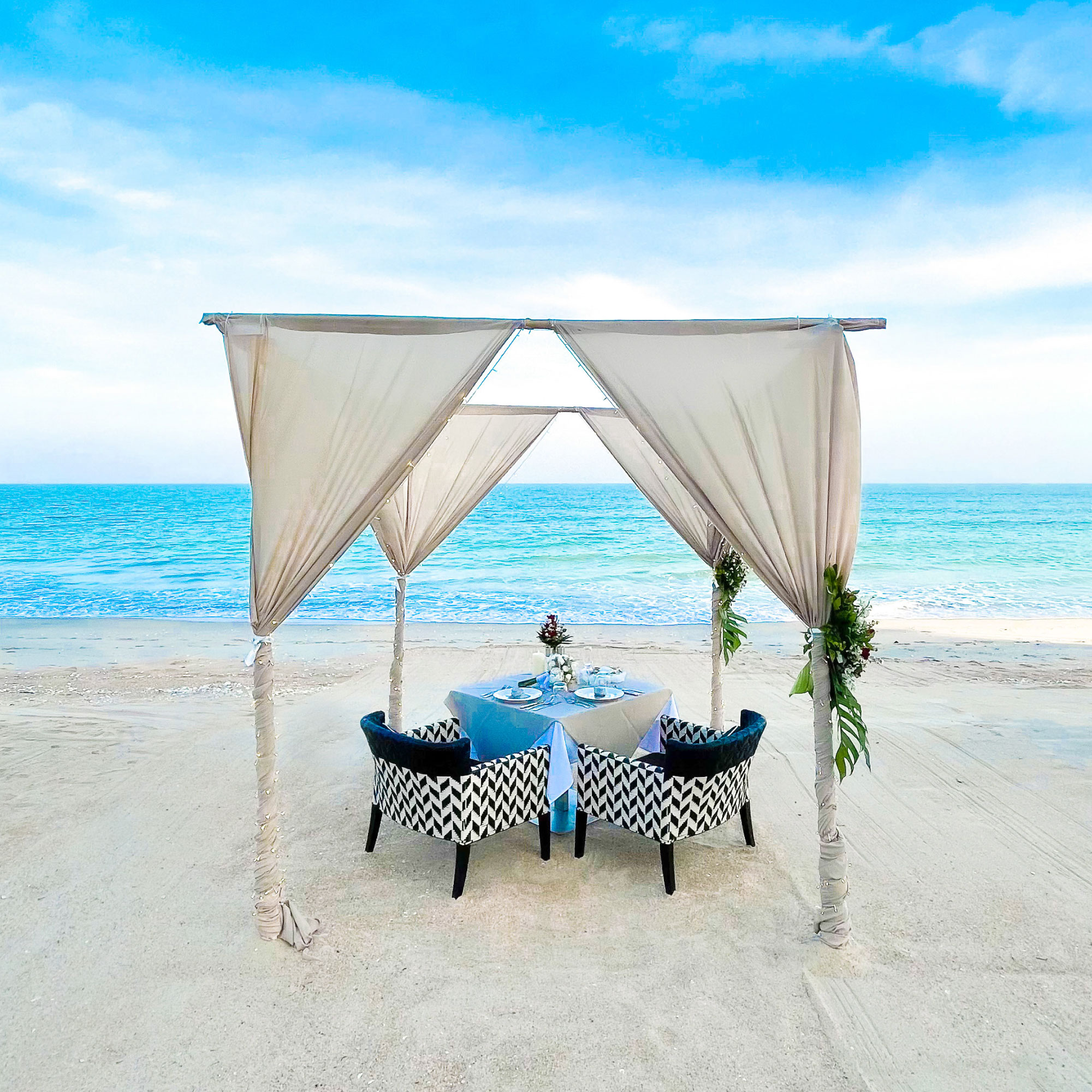 𝑹𝒐𝒎𝒂𝒏𝒕𝒊𝒄 𝑩𝒆𝒂𝒄𝒉𝒇𝒓𝒐𝒏𝒕 𝑫𝒊𝒏𝒏𝒆𝒓 🍸
ดินเนอร์ในคืนวันวาเลนไทน์ แบบส่วนตัวบนชายหาดกับเซ็ทเมนู 4 คอร์ส ราคา 9,500++ บาท สำหรับ 2 ท่าน พร้อมสปาร์คลิงไวน์ 1 ขวด (จำนวนจำกัด)
📆 14 ก.พ. 64 | เวลา 17.00 น. – 22.00 น.
See menu
𝑺𝒕𝒂𝒚𝒄𝒂𝒕𝒊𝒐𝒏 🏖️
เซอร์ไพรส์คนรักด้วยทริปพักผ่อนริมหาด พร้อมสระส่วนตัว เริ่มต้นคืนละ 7,750 บาท* เมื่อจอง 2 คืนขึ้นไป (รวมอาหารเช้า)
See packages & special offer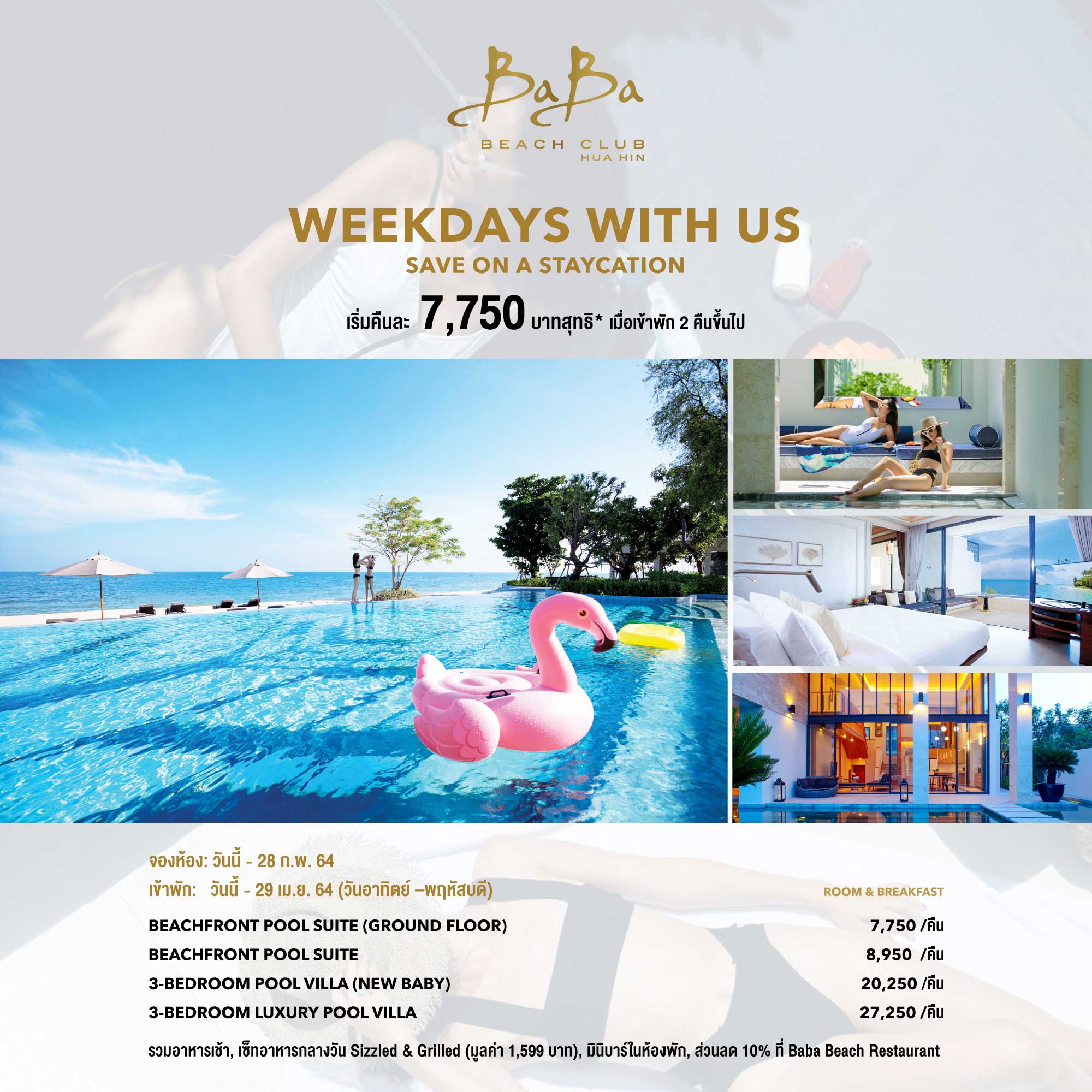 𝑷𝒓𝒆𝒕𝒕𝒚 𝒊𝒏 𝑷𝒊𝒏𝒌 🧁
จิบชาริมทะเล เติมความหวานด้วยชุด Afternoon tea ราคาเพียงเซ็ทละ 600++ บาท พิเศษตลอดเดือน ก.พ. นี้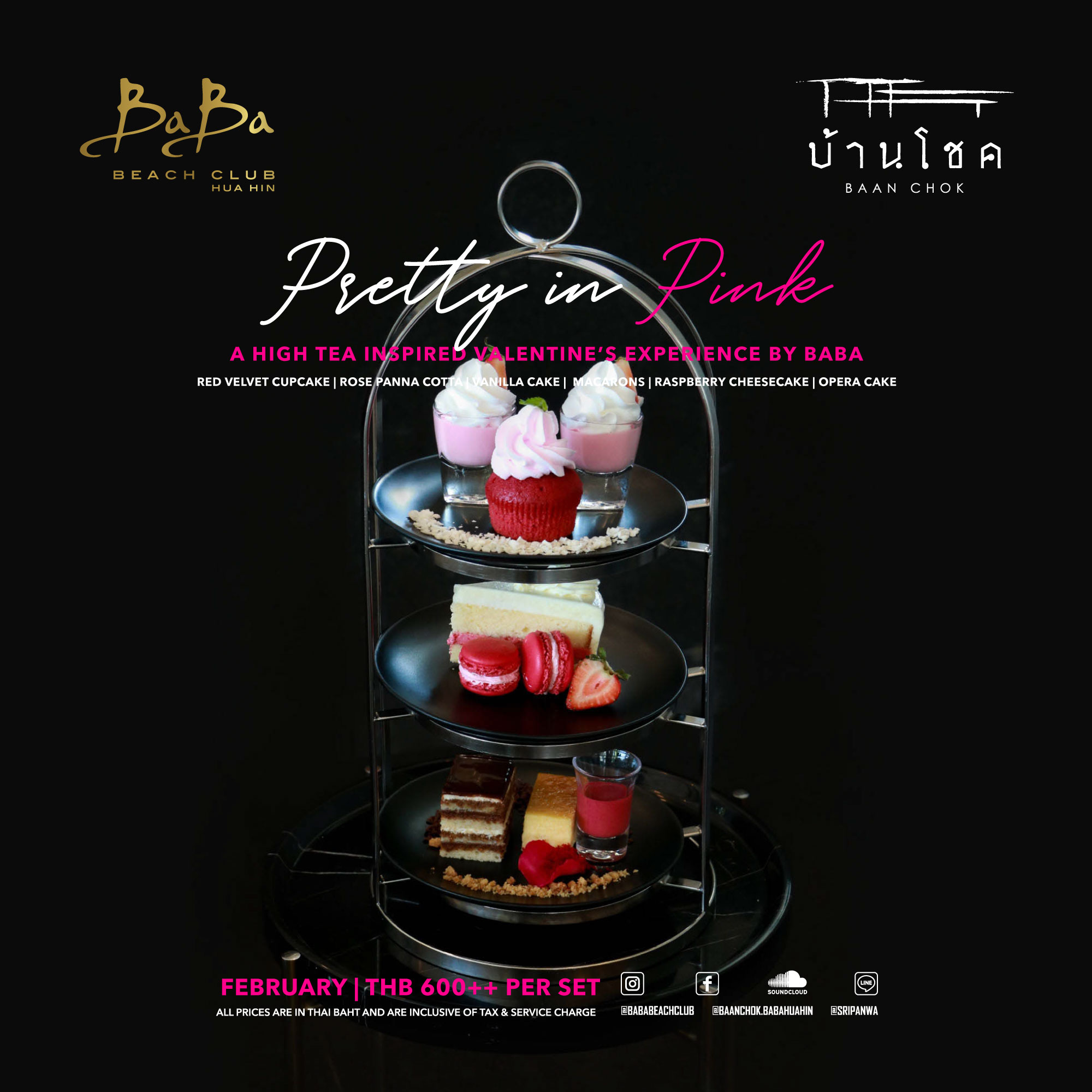 For more information & bookings, contact us!⁠⠀⁠⠀⁠⠀
📞 032-899130⁠⠀⁠⠀⁠⠀
🌏 Line: https://lin.ee/nZLgN1A
🌏 www.bababeachclub.com/huahin
---
For all you lovers out there…
Calling all lovers! Find your Valentine and join us at Baba Beach Club Hua Hin for sweet and spicy Valentine's Day on the beach!
Beachfront Dinner
Spoil that special someone with a tempting 4-course set menu for 2 while revelling in breathtaking views of the sea at twilight for THB 9,500++ with a bottle of sparkling wine along with a floral and candlelit deco to set the mood.
See menu
Perhaps you'd like to stay the night?
February rates start at THB 7,750 per night for 2 people including breakfast. A minimum 2-night stay applies.
See packages & special offer
If you miss Valentine's Day, you can still treat your better half to a Pretty In Pink afternoon tea at Baan Chok all month for just THB 600++ per set.
With love, from Baba ❤️
For more information & bookings, contact us!⁠⠀⁠⠀⁠⠀
📞 032-899130⁠⠀⁠⠀⁠⠀
🌏 Line: https://lin.ee/nZLgN1A
🌏 www.bababeachclub.com/huahin