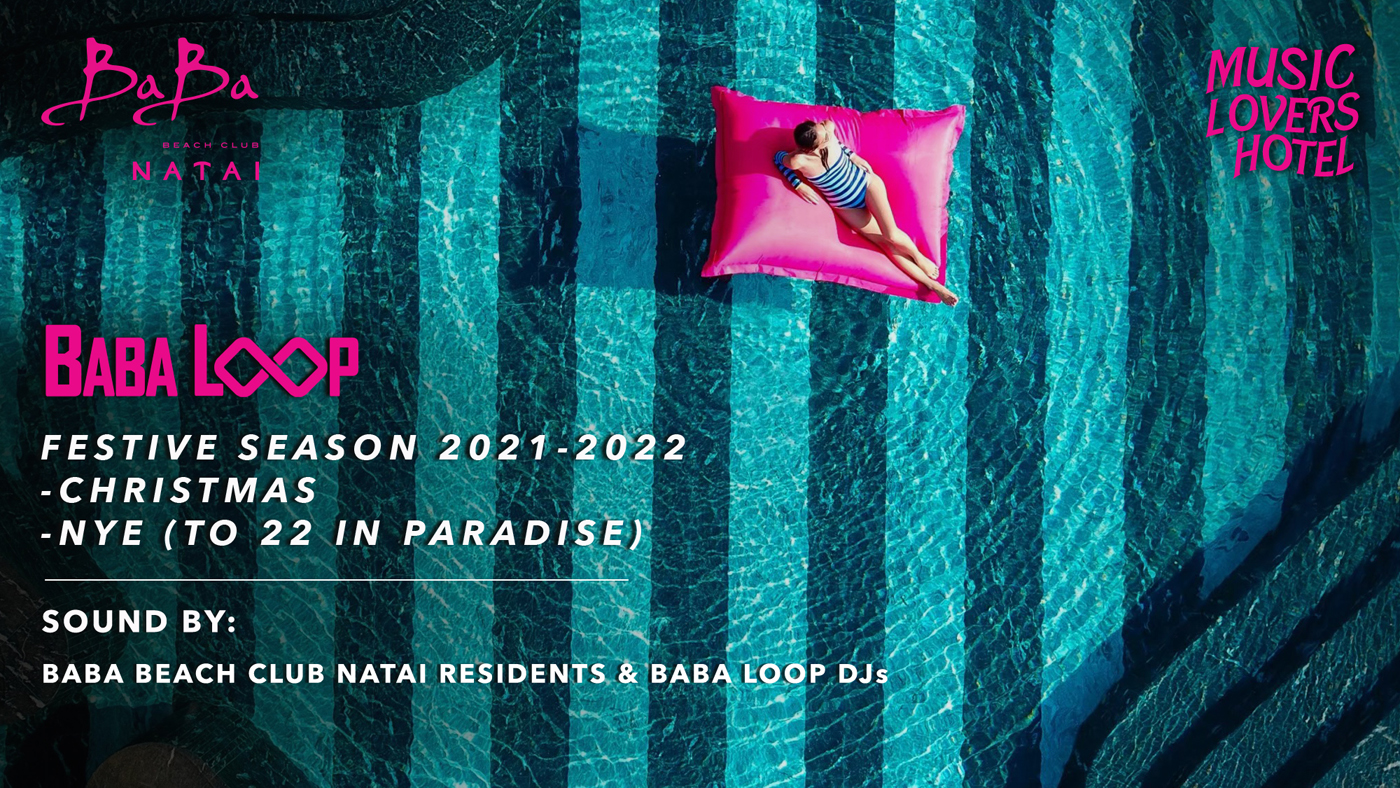 Christmas Eve (24th December)
The holidays at Baba Beach Club Natai begin on December 24 with a special Christmas Eve feast. The menu includes roast beef, half roast baby chicken, slow-cooked pork ribs, a rack of lamb, potatoes, veggies, baked casserole, gravy sauce, cranberry sauce, and epic cheese fondue.
🍽️ Price: 1,900 net person.
Looking for something different? This year our chefs have also given a Japanese twist to Christmas with a special menu that offers selections of sushi and sashimi paired with free-flow  beer, cocktails and wine for two hours. 
🍽️ Price: 3,500 net person.
Christmas Day (25th December)
On Christmas day, December 25, our notorious Baba Beach Club residents will host a daytime pool party that leads into one of our legendary late-night parties after the sun goes down. Joining our residents is hip hop legend Khan Thaitanium — a Christmas recipe for another notorious party with a festive twist.
To really elevate the experience, we're placing our chefs in the headlining spots alongside the DJs. The party is paired with an all-day brunch that starts at 12:30pm and runs until 10pm, with a variety of stations serving up different flavours all day long.
Leave all of the hard work to us as we prepare a feast of festive proportions as you enjoy a whimsical day and night with your friends and family — otherwise known as the extended #BabaFam.
💵 Price: 
🍲 2,900 net per person (FOOD ONLY)
🍲🍸4,900 net per person (FOOD & FREE FLOW COCKTAIL)
🍲🍸🍷 6,900 net per person (FOOD & FREE FLOW COCKTAIL, BEER, SPARKLING WINE, WINE)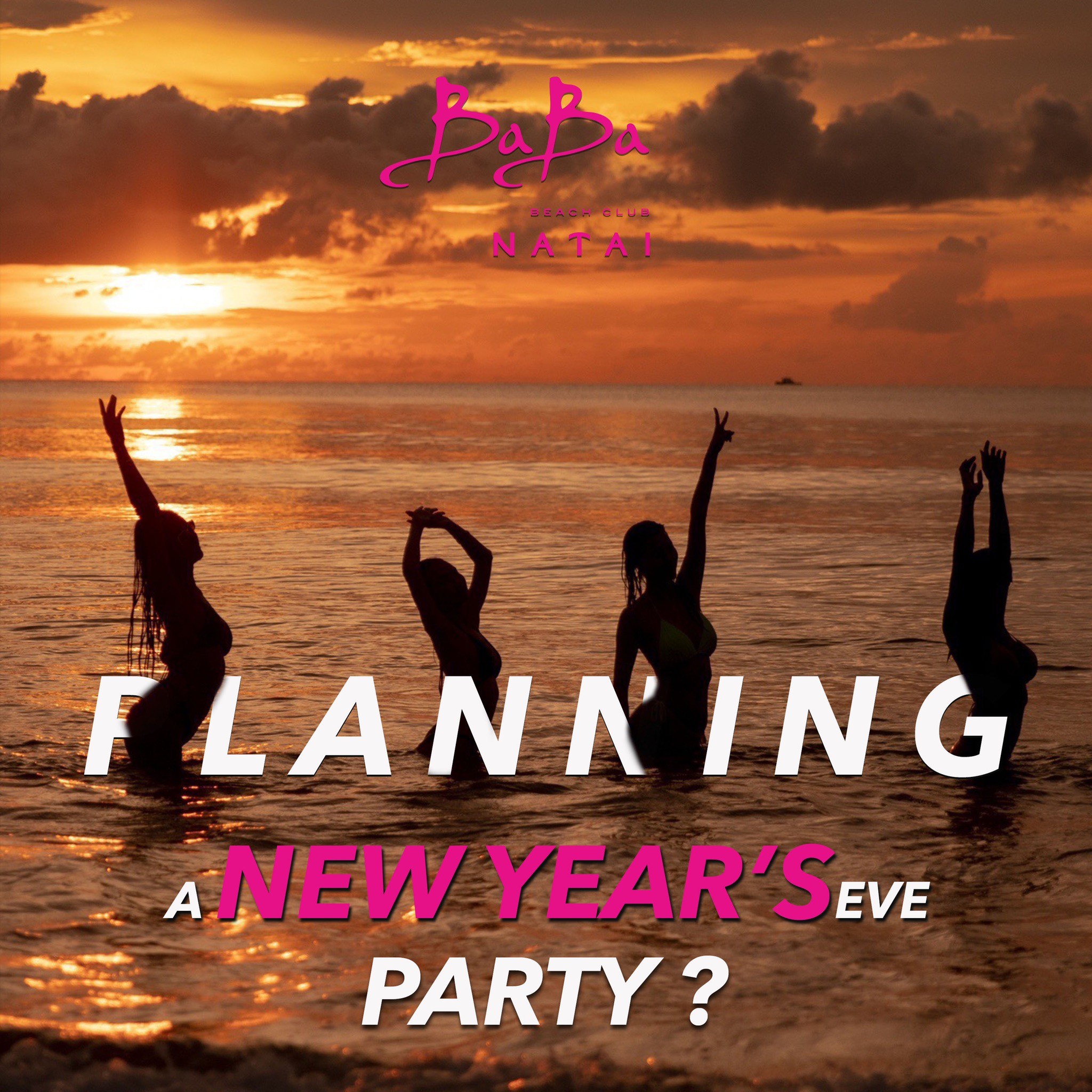 New Year Eve: To 22 in paradise
Escape 2021 and usher in 2022 with a full day and night on the beach, and a sublime sunset ritual sandwiched in between. 
Start the day off poolside with plenty of activities, followed by a special set dinner, before finishing with a countdown and new year's celebration party.
Get lost in our mangrove area by the beach to the sounds of our Baba Loop residents. This year, along with celebrating the new year, we also celebrate our beautiful Natai beach — where our dear friends come together to show off their music and get their boogie on. Don't have a crew? Even better! It's a tradition at Baba Beach Club Natai to make new friends and connect with old ones, and we do that on our sandy dance floor. If you're alone and looking for a place to celebrate, celebrate with us!
BABA LOOP: NEW YEAR EDITION
With the theme One night in Natai, this Baba Loop is still featuring your favorite Baba Loop DJs on the lineup. 
🎟️ Price: THB 1,500 per person for party admission
  START YOUR CELEBRATION WITH A SPECIAL NEW YEAR BUFFET
The procession starts with bite-sized delights and doesn't stop until you've cycled through everything our many buffets have to offer, including dessert(s). And because it's New Year's Eve, start with some champagne on us!
Available on New Year's eve anytime before 9.30 PM
🍽️ Price:
THB 6,999 net per person for the dinner experience, complimentary free-flow non-alcoholic drinks, and one bottle of 750 ml Louis Roederer Brut Champagne per couple. 
Bringing your bambinos? Children aged 4-12 can tag along for THB 2,999 net per child, which includes complimentary free-flow non-alcoholic drinks.
GO BIG, GO VIP!
DISCO Table Package: THB 15,000 net
HOUSE Table Package: THB 35,000 net 
All packages come with six tickets, bottles, mixers, table service & the comfort of your own space. 
Reserve a table now!
📞 +66 76 429 388
📧 fboffice.phuket@bababeachclub.com